FINALISTS ANNOUNCED FOR BOWLERO CORPORATION'S #BEBOWLED: SHOE DESIGN CHALLENGE
Five aspiring designers short-listed to reinvent the iconic bowling shoe.
New York, NY, June 27, 2018 – Bowlero Corporation (formerly Bowlmor AMF), the worldwide leader in bowling entertainment, is proud to announce the selection of five finalists for its #BeBowled: Shoe Design Challenge. These designers and bowling fanatics are now in the running for the once-in-a-lifetime opportunity to win a big cash prize and have his/her shoe design professionally manufactured and distributed to Bowlero and Bowlmor Lanes locations nationwide.
This past spring, Bowlero Corp invited designers from around the country to put their creative talents to the test. The company received hundreds of online submissions with designs ranging from whimsical patterns and colors to graffiti art. From those entries, Bowlero narrowed it down to five designs that will advance to the competition's final round.
On August 7th, the top five finalists will be flown to New York City and see their designs come to life during an exclusive VIP fashion show on the lanes at Bowlero Corp's flagship location, Bowlmor Times Square.
One grand prize winner will receive a cash prize of $2,500 and see her/his shoe professionally designed, produced, and worn by millions at Bowlero and Bowlmor locations nationwide, with the new shoes rolling out in 2019. In addition, Bowlero Corp will include the five finalist shoe designs in its free BowlMojis app, an emoji sticker pack available for iOS. Guests who download the app will receive ONE FREE GAME of bowling for up to four people at their local Bowlero Corp bowling center on National Bowling Day, Saturday, August 11th.
After careful consideration, the finalists include:
Kelly Duggan, 22, New Berlin, Wisconsin
Kelly grew up with a passion for fashion and design—and a father who had a passion for bowling. She graduated from Carroll University with a degree in GraphicCommunications and found out about the contest from an article that her father—an avid bowler—saw in his local newspaper. Kelly's design, Modern Geo, displays a unique geometric pattern across a black background accented with touches of blue. Her all-timehigh score in bowling is a very respectable 150.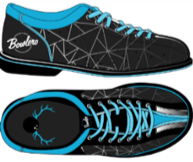 Lisa Ng, 44, Seattle, Washington
A Seattle native, Lisa spent much of her childhood drawing before studying graphic design at Carnegie Melon University. She describes her design, Street Style, as a combination of clean, minimal, and fun illustrations. Her inspiration is strongly influenced by her four children and their love of fresh and entertaining designs.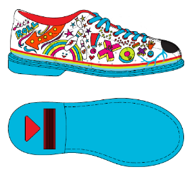 Meghan LeBlanc, 25, Northbridge, Massachusetts
Meghan is an active bowler (high score: 171) and graphic designer who developed a passion for design and the Pop Art movement while in high school. She has competed in numerous leagues over the years and was searching for a summer bowling league when she discovered a link to the competition just two days before the contest deadline! A country music fan, Meghan's design, Neon Lights 2, was inspired by her love of camouflage.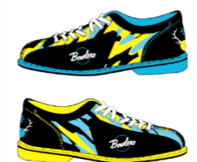 Sam Riley, 21, New York, New York
A New Hampshire native, Sam is currently a student at the Fashion Institute of Technology in New York City studying accessory design with a focus in footwear and handbags. His shoe design, Illusion Shoe, embraces Bowlero's retro-modern style and incorporates different designs on each shoe that complement one another.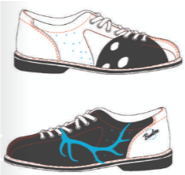 Tim Ganter, 31, Freehold, New Jersey
Tim rolled his first strike at age eight and has had a lifelong passion for bowling since (high score: 200) competing in middle school bowling leagues. He's equally passionate about design, especially footwear, and notes an admiration for the work of designer Tinker Hatfield, the man behind the Air Jordan III. Tim received his Masters' Degree in industrial design from Philadelphia University in 2015 and chose to incorporate ALL of the colors from Bowlero's palette into his design, The FADE, in an effort to demonstrate the inclusive nature of bowling—a sport that can be played by anyone.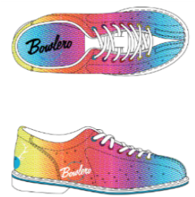 To learn more about the five finalists, their designs, and Bowlero's #BeBowled Shoe Design Challenge, please visit www.bowlerocorp.com/designourshoes.
About Bowlero Corporation
Bowlero Corporation (formerly Bowlmor AMF) is the largest owner and operator of bowling centers in the world, with over 300 locations, including eight locations in Mexico and two in Canada, specializing in corporate and special events, as well as league and retail bowling. The company was created in 2013 following the merger of Bowlmor Lanes, an upscale bowling and entertainment company, and AMF Bowling Worldwide and continued its growth with the acquisition of Brunswick Corporation's bowling center business in 2014. The company's portfolio of bowling center brands includes Bowlero, Bowlmor Lanes, AMF Bowling Co., and Brunswick Zone. For more information, please visit BowleroCorp.com.

###
---
---